Teacher jailed for oral sex with male teenage student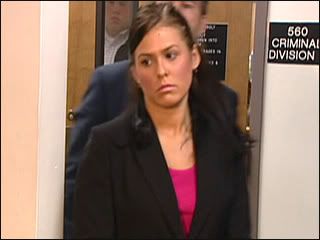 TACOMA, Wash. - A Tacoma judge ignored a plea bargain and sentenced a former Buckley teacher to six months in jail for having sex with a 17-year-old student in April, 2006. The judge apparently wanted to make an example of her.
Rebekah M. Todd, 25, had expected a sentence of 30 days in home detention when she appeared Friday in Pierce County Superior Court. She had pleaded guilty to attempted second-degree assault. It is not yet reported whether or not the teen consented or if she had wielded her authority or grades in order to gain his compliance.
She was so confident the Judge would accept the sentence recommended by prosecutors and her defense attorney that she reportedly had her husband waiting outside in the car to take her home after the hearing according to reports in the Tacoma News Tribune.
When contacted at his home in Forks, Clallam County, Todd's husband of seven months, Ricky Gooding, declined to comment Monday.
Prosecutors said they had evidence she performed oral sex on the White River High School boy the number of times also yet to be reported. Prosecutors said they had evidence Todd performed oral sex on the boy, 17 years old at the time, and later kissed him at a party. The health and physical education teacher resigned after she was accused and forfeited her teaching certificate.
The deputy prosecutor, Hugh Birgenheier, says the judge, Bryan Chushcoff, decided not to follow the recommendation from the plea bargain because of the intent of earlier legislation making it illegal for k-12 teachers to have sex with students.
Professional codes of conduct bar sexual contact between school employees and all students. But, if the students were 16 or older, such contact wasn't always considered illegal until a new bill addressing the topic passed the Washington Legislature in 2001.
Editor's note: The article didn't say how the act was exposed. Do you suppose this 17 yo boy complained or bragged?

Slashdot It!